CAMPUS MAINTENANCE FACILITY AUCTION - NO RESERVES (192)
All items closed
Long Island University - Brookville campus has outsourced their maintenance to a third party contractor and no longer needs to keep their maintained fleet of campus vehicles and supplies for all trades such as electrical, plumbing and HVAC. 
No reserves, everything must sell
*ONLINE BIDDING ONLY*  
Bidding starts: MAY 14, 2018 at 8:00 am
Bidding ends: MAY 21, 2018 at 2:00 pm
If a bid is placed in the last 2 minute(s) the auction will automatically extend for an additional 2 minute(s)
Call us if you have any questions 516-297-7775.
« Back to list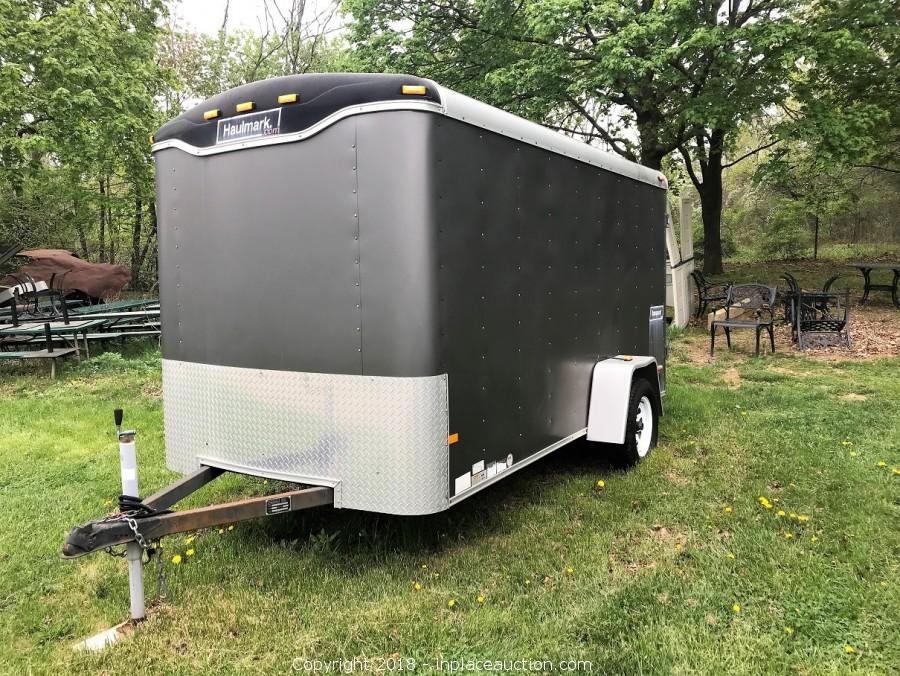 Lot #5032:
Haulmark Trailer
Bidding is

closed

.
High Bid:
$2,250.00
NA
Bidding Ended:
Mon, May 21 2:07:59 pm ET
High Bidder:
ninomcinnis24
Bid Increment:
$50.00
Starting Bid:
$500.00
Item Location:

720 Northern Blvd

,

Brookville

,

NY

11548

Item has been viewed 931 times.

| | | |
| --- | --- | --- |
| Bid Date | Bid Amount | Bidder |
| May 21, 2018 - 2:05:59 PM | $2,250.00 | ininomcinnis24 |
| May 21, 2018 - 2:05:57 PM | $2,200.00 | iMptplumbing |
| May 21, 2018 - 2:05:58 PM | $2,200.00 | ininomcinnis24 |
| May 21, 2018 - 2:05:54 PM | $2,150.00 | iMptplumbing |
| May 21, 2018 - 2:05:54 PM | $2,100.00 | ininomcinnis24 |
| May 17, 2018 - 3:43:29 PM | $2,050.00 | iMptplumbing |
| May 17, 2018 - 3:43:26 PM | $2,000.00 | iBroadway107* |
| May 17, 2018 - 3:43:27 PM | $2,000.00 | iMptplumbing |
| May 17, 2018 - 3:43:22 PM | $1,950.00 | iBroadway107* |
| May 17, 2018 - 3:43:22 PM | $1,900.00 | iMptplumbing |
| May 17, 2018 - 3:43:19 PM | $1,850.00 | iBroadway107* |
| May 17, 2018 - 3:43:19 PM | $1,800.00 | iMptplumbing |
| May 17, 2018 - 3:43:15 PM | $1,750.00 | iBroadway107* |
| May 17, 2018 - 3:43:15 PM | $1,700.00 | iMptplumbing |
| May 17, 2018 - 3:43:12 PM | $1,650.00 | iBroadway107* |
| May 17, 2018 - 3:43:12 PM | $1,600.00 | iMptplumbing |
| May 17, 2018 - 3:43:08 PM | $1,550.00 | iBroadway107* |
| May 17, 2018 - 3:43:08 PM | $1,500.00 | iMptplumbing |
| May 17, 2018 - 3:43:01 PM | $1,450.00 | iBroadway107* |
| May 17, 2018 - 3:43:01 PM | $1,400.00 | iMptplumbing |
| May 17, 2018 - 12:31:00 PM | $1,350.00 | iBroadway107* |
| May 17, 2018 - 12:30:37 PM | $1,300.00 | iMptplumbing |
| May 17, 2018 - 12:30:37 PM | $1,250.00 | iBroadway107* |
| May 17, 2018 - 12:24:44 PM | $1,150.00 | iMptplumbing |
| May 17, 2018 - 11:24:18 AM | $1,100.00 | iBroadway107* |
| May 17, 2018 - 11:24:18 AM | $1,050.00 | ipainter7 |
| May 17, 2018 - 11:24:00 AM | $1,010.00 | ipainter7 |
| May 17, 2018 - 11:24:00 AM | $1,000.00 | iBroadway107* |
| May 17, 2018 - 11:23:42 AM | $960.00 | ipainter7 |
| May 17, 2018 - 11:23:42 AM | $950.00 | iBroadway107* |
| May 16, 2018 - 9:52:07 PM | $895.00 | ipainter7 |
| May 16, 2018 - 9:52:07 PM | $885.00 | i99greensvt |
| May 16, 2018 - 2:23:27 PM | $865.00 | ipainter7 |
| May 16, 2018 - 10:54:44 AM | $855.00 | iTrikstar |
| May 16, 2018 - 10:54:44 AM | $850.00 | iBroadway107* |
| May 16, 2018 - 10:54:15 AM | $845.00 | iBroadway107* |
| May 16, 2018 - 10:54:15 AM | $835.00 | iTrikstar |
| May 16, 2018 - 10:53:31 AM | $825.00 | iBroadway107* |
| May 16, 2018 - 10:53:31 AM | $815.00 | iTrikstar |
| May 16, 2018 - 9:54:52 AM | $805.00 | iBroadway107* |
| May 16, 2018 - 9:54:52 AM | $795.00 | isailnblue |
| May 16, 2018 - 7:40:07 AM | $785.00 | iBroadway107* |
| May 16, 2018 - 7:40:07 AM | $775.00 | ipainter7 |
| May 16, 2018 - 7:39:58 AM | $760.00 | ipainter7 |
| May 16, 2018 - 7:39:58 AM | $750.00 | iBroadway107* |
| May 15, 2018 - 5:20:46 PM | $590.00 | ipainter7 |
| May 15, 2018 - 5:20:46 PM | $580.00 | iOCEANLOVERNY |
| May 15, 2018 - 10:22:44 AM | $570.00 | ipainter7 |
| May 15, 2018 - 9:30:23 AM | $560.00 | iNahid6193 |
| May 15, 2018 - 9:30:17 AM | $550.00 | iBroadway107* |
| May 15, 2018 - 9:30:18 AM | $550.00 | iNahid6193 |
| May 15, 2018 - 9:30:13 AM | $540.00 | iBroadway107* |
| May 15, 2018 - 9:30:13 AM | $530.00 | iNahid6193 |
| May 15, 2018 - 8:30:27 AM | $520.00 | iBroadway107* |
| May 14, 2018 - 9:34:03 PM | $510.00 | iNahid6193 |
| May 14, 2018 - 4:19:29 PM | $500.00 | iBroadway107* |