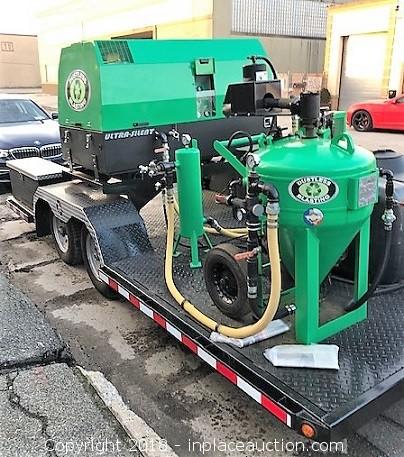 Item #0226:
Dustless Blaster Model 500 w/2017 MMLJ DB500MXL Utility Trailer
Sold
Item Price:
$35,000.00
Item has been viewed 2,030 times.

18.8 Hours,
Dustless Blaster Model 500,
Pinch Valve Operation System,
18' of 1" Blast Hose and 100' of 3/4" Blast Hose,
100' Pneumatic Line,
SLV-5 and SLV-6 Blast Nozzle,
D185 dfm Compressor,
Moisture Separator,
Dual Aluminum Plate Tool Boxes,
150 Gallon Water Tank and 498 Gallon per minute water pump,
All mounted on 16' Diamond Plate work deck.
Dual Axle Trailer w/electric brakes
Inspection by appointment only.
Contact Name: Ed Castagna
Phone: 516-229-1968
Address: Westbury, NY 11590
** Each lender MUST approve final bids before the sale is valid**
IPA# 46202 - Westbury, NY
---