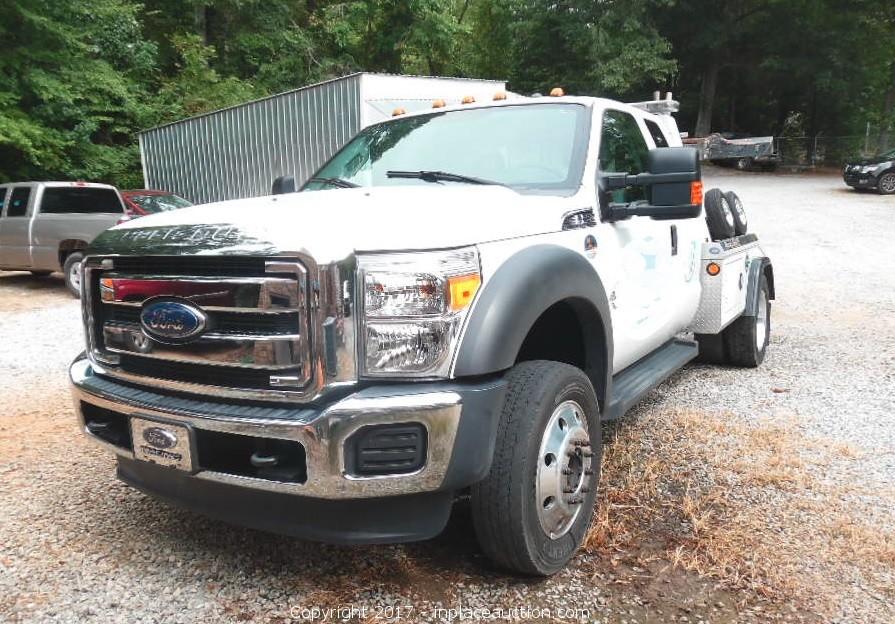 Item #0061:
2016 Ford F550 Super Cab XLT Special WRECKER!
Sold
Item Price:
$46,500.00
Item has been viewed 6,448 times.

40,330 Miles,
Make: Ford,
Model Year: 2016,
Model: F550 Super Duty,
Engine Series: V-8 6.7L,
Engine Capacity: V8, 6.7L 390BHP,
Fuel Type: Diesel,
Transmission: 6 Speed Automatic,
Cab Type: SuperCab - Dual Rear Wheels,
Drive Line Type: 4X4,
Series: F-Series Super Duty Pickup
Power Windows, Power Locks, Back Up CameraKeyless Entry, Cloth Seats, AM/FM/CD/AUX/SYNC Radio, Cruise/Tilt, Alum Outside Wheels, Midship Factory Fuel Tank, Def Emission, 4 Working Doors, Cloth Rear Seat, 4 Wheel Drive Select on the floor. Bed 0230003504.
WITH: (1) Jerr-Dan MPL Integrated Light Duty Wrecker w/ Alum Body Sides, Auto Loader Style Wheel Left w/Auto Loader L-arms. Dual 8K lbs. Ramsey Winches w/cable guides. Freespoos, Tension Plates, Integrated extendable Recovery Boom, 4K lbs. Wheel lift w/Negative Tilt, Magnetic Levelers, In-Cab Remote Control, Dual Sided Body Controls, 22 Head Federal Signal Light Bar w/Clear Lens and LED Body LIghts, LED Work Lights Upper and Lower, Alum Body Sides w/Tool Boxes w/shelves and fwork lights
CONDITION - Needs tires all around. There are some minor scratches and dings. One of the auto-loader claws is slightly bent. We just replaced the batteries yesterday. The truck starts right up and is a good runner. 
PRICING - 
We discounted for tires, brakes, and cosmetics. It still smells new inside.
It sold brand new June 2016 and the sale price was $80,635. 
This truck is priced right. 
Inspection by appointment only.
Contact Name: Ed Castagna
Phone: 516-229-1968
Address: Prosperity, SC 29127
** Each lender MUST approve final bids before the sale is valid**
IPA# 33757 - Prosperity, SC
---